Admin; Interesting development by a marijuana business to fill a need in marijuana wax production by Emotek Labs.
posted by Seshata on June 3rd 2014
While in Denver, Colorado we were given the opportunity to tour the award-winning cannabis extract company Emotek Labs, which has developed an industry-standard closed-loop system for extracting resins from cannabis using butane, while avoiding the risk of fire and explosion that can occur with traditional 'open' systems.
What is butane honey oil (BHO)?
Butane honey oil is a high-purity cannabis extract that is created by 'blasting' cannabis plant material with pressurised butane gas. In appearance, it may range from a fluffy, opaque and yellowish (usually termed 'wax' or 'budder') to an almost-transparent, glassy sheet—this is the most highly-prized form, and is usually known as 'shatter'. Wax and budder is often whipped to achieve its consistency, and its appearance may disguise impurities that would be more visible in the shatter form.
In general, a cannabis extract or concentrate is cannabis resin that has been fully separated from residual plant material through use of a solvent. Lipid-based cannabis resins cannot dissolve in water, but are capable of dissolving in non-polar solvents, as well as some polar solvents.
What are closed-loop extraction systems?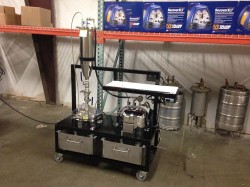 Closed-loop systems such as those created by Emotek are far safer and more effective than older methods
A closed-loop system is one which does not leave any 'gaps' through which solvents can escape. The advantages of a closed-loop system are various; primarily, the risk of explosion is reduced drastically as the flammable component is kept in a secure system that does not allow leaks, and secondly, gas usage is drastically reduced as it is recirculated back through the system and used more than once to blast the plant material. Continue reading →